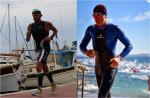 11/10 > Baptême du feu pour JC sur distance L au Triathlon Longue Distance de Bandol. Il termine en 6h, bravo champion !
18/10 > Triathlon S de Carqueiranne pour Vince avec une météo géniale. 58e place au général et 10e S2M !
La saison se termine dimanche avec Marseille - Cassis pour Vince. Puis on partira à l'assaut de la saison 2016 orientée sur le long avec de nombreuses courses au programme, dont Antibes le 13/12 en guise de dégustation .. On pensera à lacher le frein à main ce coup ci !
To be continued ..